Learn How To Play Caribbean Stud Poker Online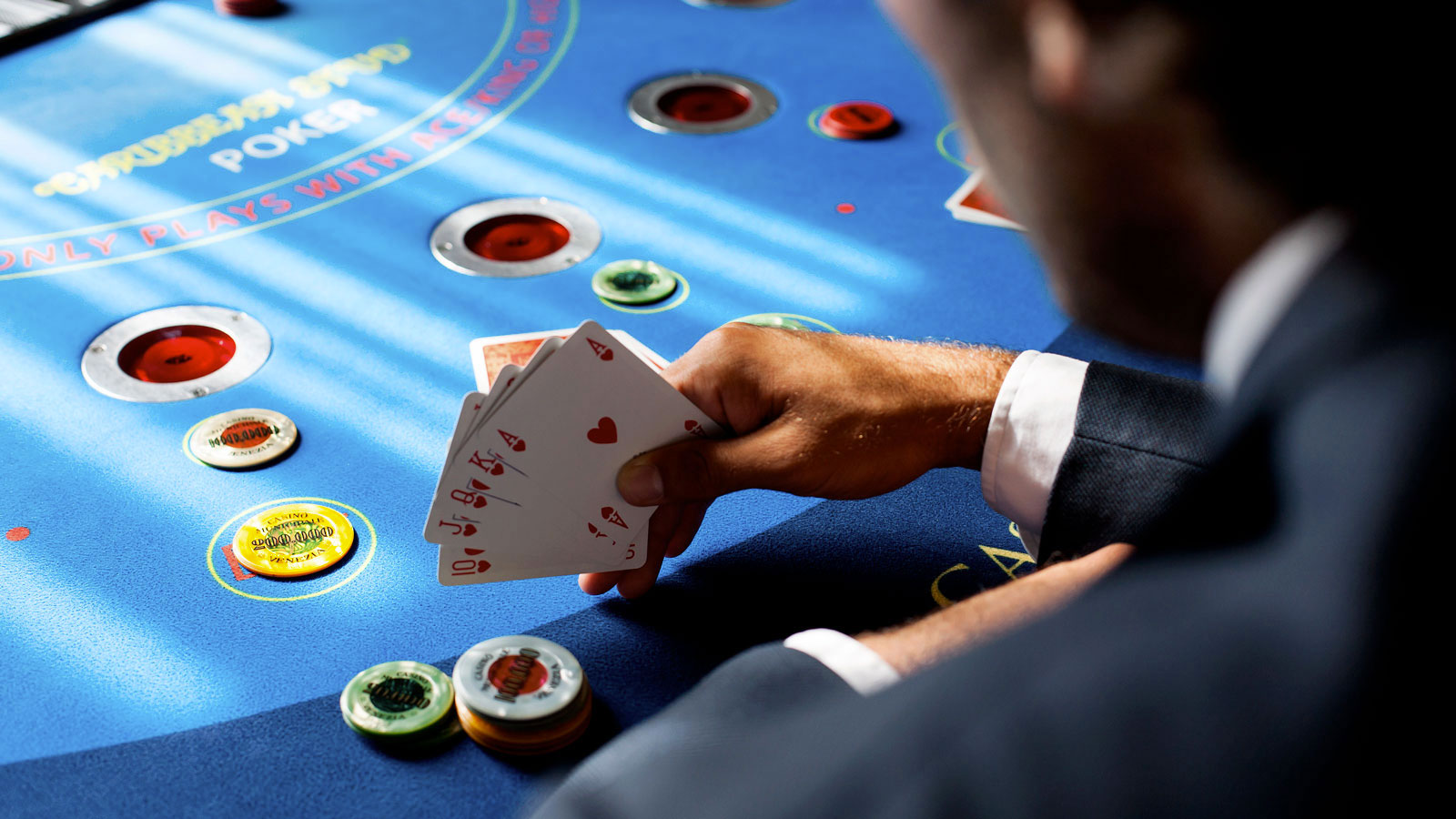 As stated in its name Caribbean Stud Poker originated in the West Indies and quickly spread to the Americas and Europe. The game is played on a standard Blackjack table and you play against the house rather than the other players on the table. The game does not involve bluffing and unlike most poker games it carries a progressive jackpot. You will find Caribbean Stud Poker in most online/ land based casinos, and you will usually find it on most cruise ships as well as its a perfect fit for cruise based casinos.
Caribbean Stud Poker Rules
Now that you know some of the basics below will give you an idea on how to play. The goal is simple, can your 5 cards beat the dealers 5 cards that you cannot see.
Caribbean Stud Poker is played with one standard deck of cards. The player will place a wager bet called the ante on the circle labelled ante. The dealer will then deal him/herself 5 cards and the last card will be facing up. After all the players are dealt their cards they will have the option to fold or play against the dealer. The goal of the game is to beat the dealer with a better poker hand. See below for standard poker hands and progressive payouts.
The dealer must have an ace king combination to compete. If the dealer does not have that everyone at the table wins. If the player decides to bet against the dealer, they will have to place another bet twice their ante on the Bet circle. The dealer will flip over their cards and the player will be paid out accordingly assuming they have beaten the dealer's hand for that betting round.
Caribbean Stud Poker Table Rules
Below is an overview of some additional rules that will be enforced by casino management while playing Caribbean Stud in a live casino:
Only one hand per player
Players cannot exchange information of the hands they are holding with other
The decision of the table manger is final
If a hole card has been exposed all hands will be considered void after the dealer announces no more bets
Wrong amount of cards to the players will result in a push hand
All players are required to have their hands in view of the dealer at all times
Caribbean Stud Poker Pay Outs
The payouts in Caribbean Stud are arranged according to 5 card poker hands since the game is essentially a branch off of 5 card stud poker with some added payouts.  Below is an overview of the various and hands and how they are paid out if dealer qualifies.
One Pair – Player is paid out 1:1
Two Pair – Player is paid out 2:1
Three of A Kind – Player is paid out 3:1
Straight – Player is paid out 4:1
Flush – Player is paid out 5:1
Full House – Player is paid out 7:1
4 of A Kind – Player is paid out 20:1
Straight Flush – Player is paid out 50:1
Royal Flush – Player is paid out 100:1
Caribbean Stud Poker Progressive Jackpot
In addition to the regular betting Caribbean Stud Poker tables usually also have a progressive jackpot feature which builds over time depending on the amount of wagers played on that particular table.  These jackpots can reach as high as $500,000 however you must place a progressive wager of $1 per hand in order to qualify for this additional jackpot prize.  In order to place the bet, simply insert a $1 chip into the bonus slot on the table, then, if you hit any of the hands below you will be paid out according to the Caribbean Stud progressive payouts listed in detail below:
Flush – Player receives instant payout of $50
Full House – Player receives instant payout of $100
4 of A Kind – Player receives instant payout of $500
Straight Flush – Player receives instant payout of 10% of progressive jackpot
Royal Flush – Player receives instant payout of 100% of progressive jackpot